Giving

Providing Lasting Support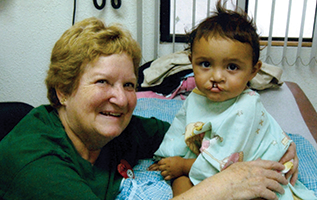 Guided by a big heart and a spirit of giving, Pat Robinson, RN, co-founded the Mercy Outreach Surgical Team (M.O.S.T.) nearly 24 years ago when she was working as an orthopedics and pre-operation nurse at Scripps Mercy Hospital.

Funded entirely through philanthropy, the Scripps Mercy program performs life-changing surgeries to correct cleft lips, cleft palates, crossed eyes and a variety of other conditions for underserved children and adults in Mexico.

"M.O.S.T. was founded in honor of the Sisters of Mercy to continue their tradition of caring for the less fortunate," says Pat.

Through the generous outpouring of community support during the past two decades, the program and its volunteers have profoundly changed the lives of more than 9,000 patients.

"It's overwhelming to think about how many children we've helped," says Pat. "We just never thought we would have such a far-reaching effect."

To continue this legacy, Pat recently made a charitable gift annuity to benefit M.O.S.T. And, given the structure of this unique gift, Pat is being rewarded for her generosity.

A charitable gift annuity not only supports the future of M.O.S.T., it benefits Pat's future too. In return for her gift, Scripps Health will pay Pat a secure, fixed income for life. This entitles her to valuable tax benefits, and part of her income payments may be income tax free.

"For someone who is retired, like me, a charitable gift annuity is a great option," says Pat. "I'm able to give to a program that is dear to my heart, witness my investment making an impact, while receiving a little extra money and a charitable tax deduction."

Gift annuities can be funded with cash, securities or real estate and the annuity rate is determined by age. The older you are, the higher your rate.

"M.O.S.T. has touched so many lives, and there is still work to do," says Pat. "I hope my gift will inspire others to support the program and the care that it provides to those in greatest need."