Giving

A Vision for the Future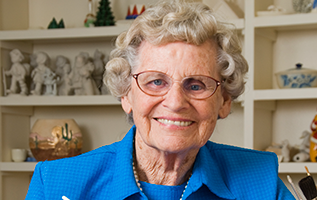 For more than 50 years, Mary has relied on her eyes to create beautiful pieces of ceramic artwork — an intricate process that involves the use of both hands and sight. So passionate about ceramics, Mary even shared her artistic abilities with residents of her community center instructing them how to breathe life into their own art.

But when Mary's vision began to diminish due to a retina detachment she suffered many years before, she feared her connection to her passion might be taken away from her.

Through a friend's recommendation, Mary sought the expertise of Scripps Clinic ophthalmologist and clinical researcher Martin Friedlander, MD. Dr. Friedlander, along with his colleague Karim Zablit, MD, were able to slow the progression of Mary's vision loss, connect her with various local community groups and offer her the latest information regarding clinical research in vision.

So moved by the care and treatment she received, Mary has made two charitable gift annuities to support Dr. Friedlander's research efforts. Through her gifts, she is leaving a lasting legacy and making a profound impact in the health of our community.

"It is important for me to do what I can to help prevent others from experiencing vision loss," said Mary. "One day I won't be able to create artwork, so with my gifts to vision research, I feel like I can continue to give back and bring smiles to others faces."

Charitable gift annuities allow you to make a charitable gift and also receive secure income for life from Scripps Health. You transfer assets to Scripps Health — such as cash, securities, or real property — and in return we make regular, fixed payments to you for life. The amount of your income will depend on your age at the time of the gift. This arrangement provides you with an immediate income tax deduction. And, your income from Scripps Health may be partially tax free. If you choose to give appreciated property, you may receive additional valuable capital gains tax benefits.