Giving

International Humanitarian and Activist Selects Scripps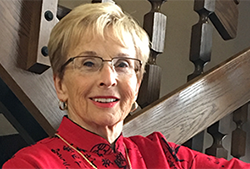 Rosemary Straley had traveled to 158 countries and 49 states before settling down in San Diego 10 years ago with her husband Walt. But her zest for world travel, philanthropy, political and humanitarian causes knows no bounds.
"Helping people in need is a family tradition," says Rosemary, the daughter of a Presbyterian minister. " During his long career that lasted into his 90s, my father raised millions of dollars to build new churches and help others."
As a young woman, Rosemary ventured from her parents home in Anaheim to earn her bachelors and masters degrees at Stanford. She went on to serve in the Peace Corps and, to this day, continues her peace advocacy as a member of the Directors Circle of the National Peace Corps Association and on an advisory committee of the Women's Peacemaker Program at USD.
After Stanford, she went on to Harvard, where she earned a doctorate in educational administration, specializing in planning for developing countries. This knowledge carried her to Washington, DC, where she served in several governmental posts, and was chosen as the sole American representative in Paris at UNESCO's 1980 International Institute for Educational Planning.
It seems only appropriate that Rosemary met her husband oversees in Japan. They married in 1991 and spent much of the next 20 years traveling the world. "We visited more than 120 countries together, often on world cruises. These were particularly dear to us both as we had the chance to participate in Semester at Sea programs, designed as knowledge-sharing opportunities between older and younger travelers. We particularly enjoyed introducing young people to the Peace Corps and to global women's issues."
Charitable Gift Annuity Offers Secure Future and a Great Cause
In 2012, Rosemary found herself alone, after Walt's passing. Grateful for the care he received at Scripps, she looked for a way to support Scripps' mission and, at the same time, provide for her future.
In the current investment climate, safe investments typically provide only a one to three percent return. Since Rosemary had learned about Charitable Gift Annuities from her father, she looked into Scripps' Charitable Gift Annuity program in 2016 and decided that was a great way to support an organization she cared about. She found out that she could provide secure, fixed, partially tax-free income for herself at higher rates than she could earn by investing in the market, by making a special gift to Scripps.
"Because Scripps has provided my family with excellent medical care, it is important to me to support its efforts to remain on the cutting edge," says Rosemary. "And as a senior on a fixed income, the CGA option for giving offers a stable and favorable source of income as long as I live."